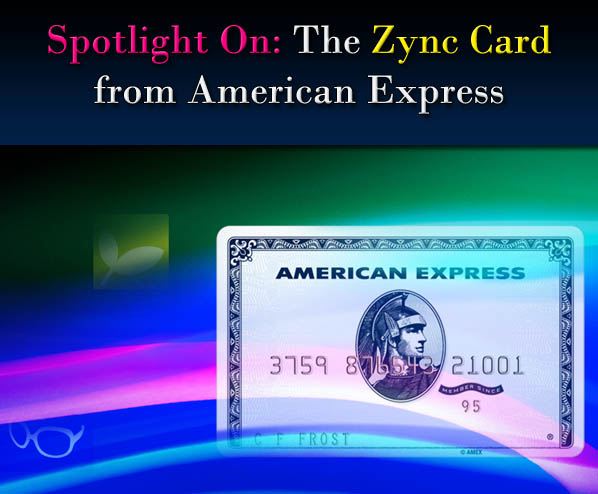 If you love to shop, and you have the new American Express ZYNC card, there's a special shopping event in NYC coming up that you may wish to get in on.
American Express' newest charge card ZYNC is partnering with Lucky, to present the seventh annual LUCKY SHOPS event, an ultimate shopping experience. Lucky Shops 2010 will feature over 60 designers and retailers from fashion icons and cult favorites to up-and-coming brands. Favorite fashions, handbags, shoes, jewelry and more will be available with items selling at up to 70% off retail. There will be music, refreshments, giveaways plus...bargains!
In November, ZYNC will be hosting an exclusive ZYNC Card boutique on-site where shoppers can stop by and check out some of Lucky's favorite designers, including Tucker, Alex Woo, Twinkle by Wenlan, Tina Tang, and Yumi Kim. The Boutique will also offer guests a chance to win signature pieces from Yumi Kim, Tina Tang and Alex Woo.
ZYNC Card members will enjoy exclusive perks and privileges, including:
· Entry tickets 15% off the regular price at www.LuckyShops.com
· Quick pass to the event via a VIP entrance
· One hour early access prior to doors opening on both days
· Personal shoppers on-site to assist with any shopping and fashion queries
· A trendy purple scarf gift with any purchase on-site
· Immediate ZYNC Card member access and special gift via on-site acquisition
ZYNC is also taking the shopping experience beyond the event by providing consumers with access to shop the ZYNC Lucky Shops on-site designer boutique online at boutiques.refinery29.com through April 2011. Fashionistas will be able to seek advice from Lucky Alpha Shopper Bloggers via e-mail while perusing the online store. ZYNC Card members will have the additional benefits of accessing a Cardmember-only ZYNC Boutique and having early access to the Daily Deals.
WHERE: Metropolitan Pavilion, 125 West 18th Street (between 6th and 7th Avenues), NYC
WHEN: November 4-6, 2010
VIP Shopping Party – November 4 6PM-9PM
Friday Preview Pass – November 5, 11AM-8PM
Friday General Admission – November 5, 12PM-8PM
Saturday General Admission – 11AM-5PM
*ZYNC Cardmembers will be allowed VIP access ONE HOUR prior to doors open both days*